Mail just got more irresistible. 
Informed Delivery provides users with daily digital previews of their incoming household mail. It's a free and optional notification service that gives eligible residential consumers the ability to see a preview of their letter mail in their email, wherever they are, before it arrives. 
What does this mean for direct mail marketers?
Informed Delivery can help mailers increase their marketing campaign reach with a synchronized physical and digital touch point.
Impressions: Receive multiple impressions from a single mail piece.
Interactive Content : Enhance the customer call to action with interactive digital content.
Increased ROI: Connect with customers whenever, wherever—even as they travel—through a computer or mobile device.
Campaign Reporting: The post campaign report results on an individual campaign, including information on the number of physical mail pieces processed, the number of users/mail recipients that were sent an email, the email open rate, and the number of click-throughs.
Informed Delivery allows mailers to:
Take advantage of a new digital channel, tying hardcopy mail to digital content.
Receive an additional digital impression for the intended recipient and additional impressions for other household members who are Informed Delivery users.
Experience high email open rates (~70% daily average).
Informed Delivery interactive campaigns provide additional benefits, allowing mailers to:
Enhance the presentation of the scanned mail piece images that consumers are already receiving.
Give the mail recipient or other household members the opportunity to take action immediately on their mail piece by clicking on a campaign image/website link – regardless of whether or not they retrieve mail from the physical mailbox.
Coordinate multi-channel campaigns with text, social media, other email, etc.
Collect information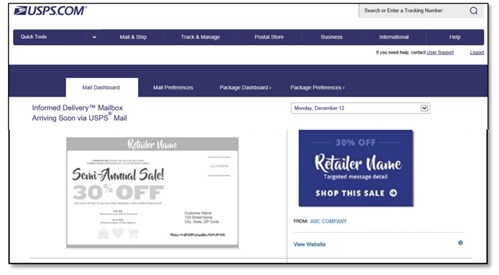 What types of interactive campaigns are available?
Currently, there are two types of Informed Delivery campaigns available, depending on the supplemental content provided by the mail owner or MSP. They are described below.
Ride-along Image and Target URL:
Campaign includes the USPS grayscale (soon to be color) scanned image of a letter-size mail piece and an image provided by the mailer, currently placed below the grayscale image in the email and to the right of the image in the dashboard.
In all cases, the Ride-along Image is clickable (interactive), as is the additional "View Website" link.

Note: a Ride-along Image and mailer-provided URL is required to conduct an Informed Delivery campaign.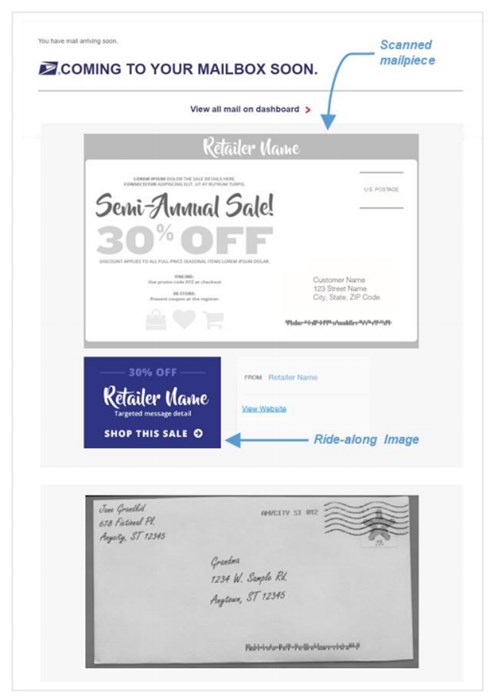 Informed Delivery notification containing a campaign with a Ride-along Image and target URL (as shown in consumer email)
Representative Image, Ride-along Image, and Target URL:
In addition to the required Ride-along Image and URL, this campaign includes an image that is provided in lieu of a flat-size image or in place of a grayscale letter-size image. (Grayscale images of flat-size mail are not provided to consumers at this time.)
Representative Images are static, they are not clickable/interactive
These images must be clearly branded and must be directly related to the hardcopy mail piece. A color depiction of the mail piece is favored by consumers.

Note: Representative Images are optional for letter-size mailings (including postcards), however, they are required to conduct a campaign with a flat-size mailing.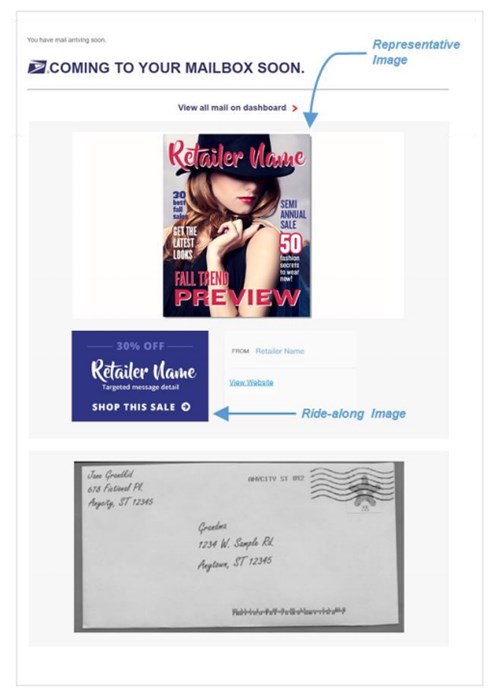 Informed Delivery notification containing a campaign with a Representative Image, Ride-along Image, and target URL (as shown in consumer email)
How do we get started with a campaign?
USPS® understands that many people may be involved in the development of an Informed Delivery® campaign, including gathering necessary elements and content (e.g. the Mailer Identifier (MID), Intelligent Mail® barcode (IMb®)/Serial Number range, start/end dates, images, URL, etc.).
However, one designated person must work with the Informed Delivery Program Office or the PostalOne!® Customer Acceptance Testing (CAT) team to ensure all campaign elements and content are complete.
Are you ready to make your mark among mail's top innovators? Contact us directly to get started on this program.