See Your Competitor's Banner Ads with This Simple Tool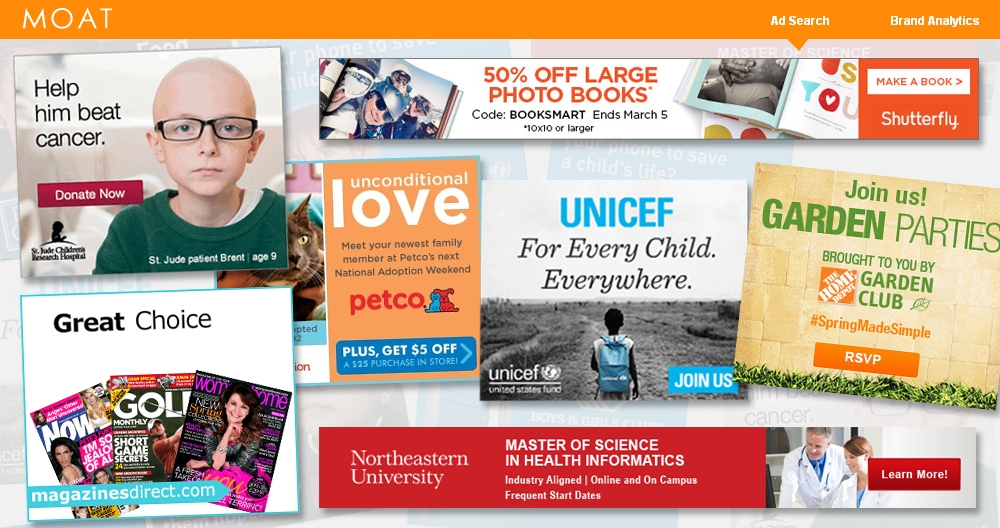 When you're brainstorming on creative ideas for your display campaigns (or pitching your boss on the many reasons you should test display), sometimes it's helpful to see what the competition is up to.
One of our favorite tools to recommend to clients is Moat.com. Moat provides an easy way for you to find ads running across the web. Whether you want to see ads from a particular brand, discover new advertisers, or get some design inspiration from innovative creative campaigns, use Moat's ad search to discover what's out there and what your competitors are doing. Plus, they do not charge any fees for using their basic search engine.

Here are some quick tips for using the tool:
Use the drop down:

 

When you search by company/brand name, start to type the name in slowly until a drop down appears with options similar to your search. Use your mouse to select the brand of your choice. You'll get more search results this way vs. typing in the brand name manually and clicking the magnifying glass to search.
Find the RTB campaigns: To understand which campaigns are likely being run via RTB (real-time-bidding), look for banner ads that have the same design concept but are produced in multiple different sizes. 
Hover to see animation and details: Hover your mouse over the banner ad to see any animation (if applicable) and learn where and when the ad was last seen by Moat.
We've found that Moat doesn't pick up on 100% of banner ads online but it finds enough to spark some new ideas. 

Happy searching!